The program RealVisor magically transforms almost any modern android smartphone into a reliable video & audio recorder operated in any 3G / 4G networks.

Having motion and sound detectors, the video surveillance app provide a cyclic video recording on the SD-card and on the cloud storage Yandex-Disk through the Internet.

Main outputs of the app
1) Videos recorded through the Smartphone / USB / IP cameras by the motion / audio / smoke detectors;
2) Alerts:
SMS

​EMAIL with pictures

EMAIL with video

Call

Video call
The customer can easily make video calls to the video surveillance system - receive live live video online on his mobile phone.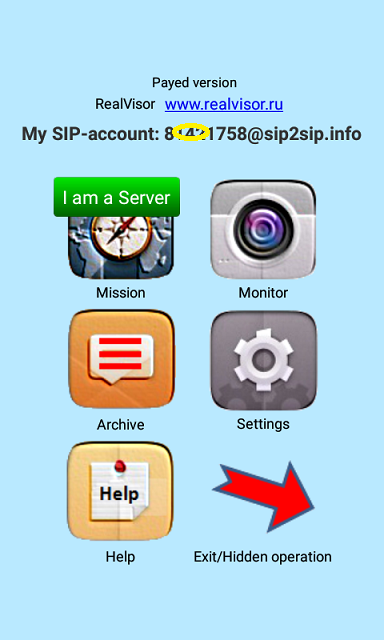 Video files in the archive are recorded in real time immediately in standard AVI format with sound so that you can view the video with sound on any computer or Smartphone.
The program always "in the game"-even when recording video motion detectors and audio are always in work. Neither the event nor a single frame will not be ignored!

The program can be managed remotely via SMS. For example, to get a list of backup files on any day and time interval or "ask" to send the EMAIL from 1 up to 30 images, video files from an archive (c) SD card or translate live video to your computer or smart phone.

Operation in the hidden mode
Select in thr app: "Settings-System". Check the box to "Autorun". As a result after each activation of the Smartphone application itself will be run in "service" (hidden) mode.

Options
Smoke/Flame detectors are also included (optionally).

---
Attention! Delivery of the activation key to activate commercial version is provided by email, i.e. the activation key will be sent to your email.